Are you looking to create a special day for Mom? Does she love brunch, antiques and crafts, beautiful gardens or a day at the ballpark? We are sharing San Diego Area events perfect to celebrate your love for Mom. Visit the event websites to purchase tickets or learn more.
Mother's Day Brunch Cruise. Celebrate Mother's Day with a relaxing brunch cruise on the Big Bay. May 8, Two departures 10 am & 2 pm. $56.70–$94.50; 3 & under free. 990 N. Harbor Dr. San Diego. Fun for all ages!
Spring Antique & Craft Fair.  With over 50 fine craftsmen and expert artisans displaying crafts, collectibles, antiques and a garden sale, mom will love spending the day shopping at this event.  May 7–8, 9 am–3 pm. At Summers Past Farms, 15602 Olde Hwy. 80, Flinn Springs.
Mother's Day at Petco Park. If mom is a sports nut, the Padres are in town at Petco Park! The entire family will enjoy a day at the ballpark! Kids giveaway: May 8 vs. Miami Marlins, 1:10 pm. Tickets are available on the website.
World of Orchids For the flower-loving mom enjoy the vibrant colors, elegant shapes and intoxicating scents for which orchids are so well known. May 7- June 12. $12–$18. San Diego Botanic Garden, Quail Gardens Dr. & Ecke Ranch Rd. Reservations strongly recommended.
Brunch at Home – Feeling like staying close to home? Rather than going out for brunch, how about surprising Mom with a delicious homemade brunch! Whether served on the patio, in a park, or even better yet, in bed, the kids will have a blast making mom feel special! Here's one of our favorite breakfasts.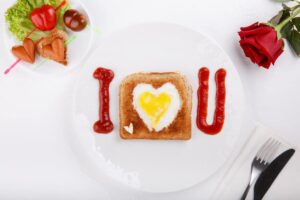 Heart-Shaped Eggs-in-a-Hole served with Mom's favorite jam, fresh fruit, bacon or sausage links are sure to please. Add a single flower to dress up the tray or table. This is best made right before you need to eat it.
Ingredients
1 slice of whole-wheat bread or Mom's favorite bread.
1 tablespoon unsalted butter
1 large egg
Salt, to taste
Freshly ground black pepper, to taste
Steps to Make It
Using a heart-shaped cookie cutter, cut out the center of the bread.
Heat a medium-sized frying pan to medium heat. Add the butter, and once it has melted, swirl to coat.
Add the bread to the pan and let it cook on that side until golden. Using a spatula, flip the bread over.
Crack the egg into the hole in the bread. Turn the heat to low, cover and cook for about 2 minutes or until the egg has been cooked through. Toast the cut-out bread piece in the pan as well and use it for dipping in the egg.
Sprinkle with salt and pepper to taste and serve immediately.
Cornerstone is building modern, innovative new construction homes across the county. Stunning eco-friendly townhomes are coming to Santee in 2022 at Laurel Heights and Single-Family new homes at Otay Ranch in Chula Vista. Additional new communities are also underway in South San Diego, La Mesa and Poway for 2023. To learn more, visit our website at https://www.cornerstonecommunities.com/laurelheights/